OUR COMMITMENT TO YOU FOR THE LIFESPAN OF YOUR OWNERSHIP.
WHEN YOU MAKE THE DECISION TO GO HINO, IT'S ABOUT MUCH MORE THAN JUST A TRUCK.
Hino Trucks offers the premier, industry-best engine warranty. All Hino Conventional and Cab-over light and medium duty trucks are covered for 3 yrs unlimited mileage on the base warranty; but we don't stop there! Our Conventionals come standard with a 5 years, 250,000 mileage extended warranty coverage, and our Cab-overs come standard with a 5 years, 175,000 mileage extended warranty coverage. Let's just say we have confidence in the Hino J-Series engine family and we back it up with the industry's best warranty!
5 YEAR
WARRANTY.
+ TELEMATICS
+ REMOTE DIAGNOSTICS
+ CASE MANAGEMENT:
THE INDUSTRY'S ONLY FULLY INTEGRATED CONNECTED VEHICLE PLATFORM... STANDARD.
Hino INSIGHT combines Telematics, Remote Diagnostics and Case Management in the industry's only fully integrated support platform - it's a totally new level of support for owners and drivers that not only maximizes fleet efficiency but streamlines vehicle management from end to end with seamless communication between owners, dealers and Hin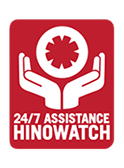 24/7
ASSISTANCE
We've got your back! Covered that is. For the first three years of ownership regardless of mileage. HinoWatch is there to ensure you are protected night and day, year round - with roadside assistance for your Hino light or medium duty truck anywhere throughout the United States and Canada.
ADDED PROTECTION.
Hino now offers a preventive service care program for all Hino models called HinoCare. Available in various plans ranging from 2 to 6 years, HinoCare provides value in peace of mind by totally covering and managing scheduled standard maintenance items
USE DESKTOP SITE