WEAR YOUR JEANS TO WORK TO SUPPORT PEDIATRIC CANCER RESEARCH & THE CHAD TOUGH FOUNDATION
#
GO
BLUE
4
CHAD
WEAR JEANS FOR RESEARCH
MEET CHAD
& HIS LEGACY
Maybe you're already wearing jeans... thats great! Post a picture on instagram, facebook or twitter - tag it #goblue4chad and if you can, donate a little to pediatric cancer research and the ChadTough Foundation here. Every tag helps spread the message.
This is Chad - The ChadTough Foundation was started by the Carr Family in honor of their son Chad and his ongoing battle with DIPG (Diffuse Intrinsic Pontine Glioma). The ChadTough Foundation supports pediatric brain tumor research and studies nationwide. They are rallying to cure pediatric brain tumors and your jeans can play a part!
CHAD CARR 2010 - 2015
Chad Carr was diagnosed with an inoperable brain tumor on Sept 23rd, 2014. he and his parents Tammi & Jason Carr, worked hard to raise awareness together prior to his passing in late 2015. His foundation continues to grow and support pediatric cancer research.
CHAD TOUGH FOUNDATION
DIPG presents a great challenge, it is an extremely difficult and complex disease. We believe a cure will come from talented, passionate people working collaboratively. It will come from "Thinking outside the Box" and taking some risks. It will come from small breakthroughs happening in many different areas of medicine. The ChadTough Foundation is committed to funding this work.
Visit the ChadTough.org website to learn more about their goals and objectives.
This is where it gets interesting! You can CHALLENGE your company or organization to #goblue4chad and really make a difference!
HOW DOES IT WORK?
Your company or organization chooses the month they want to participate. Employees wear jeans during any two weeks in that month for a donation (usually $20) and match it with an amount from the corporate checkbook! Easy!
HOW DO YOU START?
Challenge your employer to participate by tagging them in your post on Instagram, Twitter or Facebook, and challenging them to #goblue4chad.
WHATS IN IT FOR THEM?
They're starting a movement to bring awareness to and support a very important and heartbreaking cause - pediatric cancer research.
HOW DOES A COMPANY IMPLEMENT?
Simple! They just start with an announcement to staff and make a direct donation to the ChadTough Foundation when the $$ are collected!
CHALLENGE A COMPANY TO GO BLUE!
COMPANY CHALLENGES!
These Companies are in! Thanks so much for supporting this cause! - Oh, and feel free to challenge your peers in the industry!
Hino Trucks USA : 100+ employees > $20 for a month of going blue > Matching funds up to $1000.00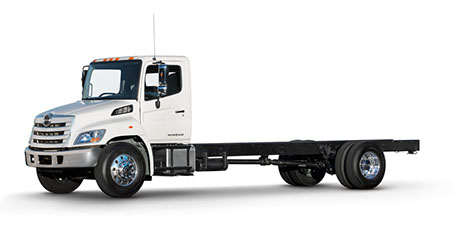 SIGN UP FOR OUR E-NEWSLETTER:
©2016 HINO MOTORS SALES U.S.A., INC.